Increasing the raw contrast of VLT/SPHERE with the dark hole technique. II. On-sky wavefront correction and coherent differential imaging
Context. Direct imaging of exoplanets takes advantage of state-of-the-art adaptive optics (AO) systems, coronagraphy, and postprocessing techniques. Coronagraphs attenuate starlight to mitigate the unfavorable flux ratio between an exoplanet and its host star. AO systems provide diffraction-limited images of point sources and minimize optical aberrations that would cause starlight to leak through coronagraphs. Post-processing techniques then estimate and remove residual stellar speckles due to hardware limitations, such as noncommon path aberrations (NCPAs) and diffraction from telescope obscurations, and identify potential companions.
Aims: We aim to demonstrate an efficient method to minimize the speckle intensity due to NCPAs and the underlying stellar diffraction pattern during an observing night on the Spectro-Polarimetric High-contrast Expolanet REsearch (SPHERE) instrument at the Very Large Telescope (VLT) instrument without any hardware modifications.
Methods: We implement an iterative dark-hole (DH) algorithm to remove stellar speckles on-sky before a science observation. It uses a pair-wise probing estimator and a controller based on electric field conjugation, originally developed for space-based application. This work presents the first such on-sky minimization of speckles with a DH technique on SPHERE.
Results: We show the standard deviation of the normalized intensity in the raw images is reduced by a factor of up to five in the corrected region with respect to the current calibration strategy under median conditions for VLT. This level of contrast performance obtained with only 1 min of exposure time reaches median performances on SPHERE that use post-processing methods requiring ~1h-long sequences of observations. The resulting raw contrast improvement provides access to potentially fainter and lower-mass exoplanets closer to their host stars. We also present an alternative a posteriori calibration method that takes advantage of the starlight coherence and improves the post-processed contrast levels rms by a factor of about three with respect to the raw images.
Conclusions: This on-sky demonstration represents a decisive milestone for the future design, development, and observing strategy of the next generation of ground-based exoplanet imagers for 10-m to 40-m telescopes.
Fichier principal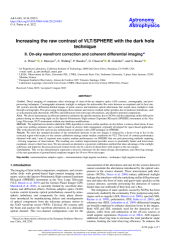 aa44185-22.pdf (1.93 Mo)
Télécharger le fichier
Origin : Publisher files allowed on an open archive