Nightside Auroral Electrons at Mars: Upstream Drivers and Ionospheric Impact
Discrete aurorae have been observed at Mars by multiple spacecraft, including Mars Express, Mars Atmosphere and Volatile EvolutioN (MAVEN), and most recently the United Arab Emirates Hope spacecraft. Meanwhile, there have been studies on the source particles responsible for producing these detectable aurorae (termed "auroral electrons"). By utilizing empirical criteria to select auroral electrons established by Xu et al. (2022,
https://doi.org/10.1029/2022GL097757
), we conduct statistical analyses of the impact of upstream drivers on the occurrence rate and fluxes of auroral electrons. We find the occurrence rate increases with upstream dynamic pressure and weakly depends on the interplanetary magnetic field strength. Meanwhile, the integrated auroral electron flux somewhat decreases with increasing upstream drivers. Auroral electron precipitation also occurs more frequently and is more intense over regions of strong crustal fields compared to weak crustal fields. Aside from emissions, auroral electrons are expected to cause significant impact ionization and enhance the plasma density locally. In this study, we also quantify the nightside ionospheric impact of auroral electron precipitation, specifically the thermal ion (O
+
, O
2
+
, and CO
2
+
) density enhancement, with MAVEN observations. Our results show that the ion density is increased by up to an order of magnitude at low altitudes. The crustal effects on ion density profiles for nominal electron and auroral electron precipitation are also discussed.
Fichier principal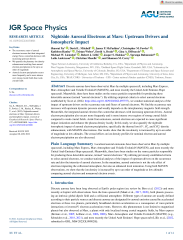 JGR Space Physics - 2022 - Xu - Nightside Auroral Electrons at Mars Upstream Drivers and Ionospheric Impact.pdf (1.81 Mo)
Télécharger le fichier
Origin : Publisher files allowed on an open archive