Formation and preservation of colluvial sedimentary breccias during early extension: processes and facies organization
In this study, we focused on the formation and preservation processes of colluvial sedimentary breccias within an extensional context. The breccias studied in this work (from Crete and the Pyrenees) are characterized by poorly sorted polygenic deposits of highly angular carbonate clasts whose size ranges from pebbles to blocks measuring several millimeters to several meters. This study shows that the colluvial sedimentary breccias were formed during extensional tectonics and are spatially associated with large-throw normal fault. They are related to the creation of a substantial topography in the footwall of the normal fault followed by its collapse on the hanging wall, leading to fast sediment accumulation and preservation. These breccias are organized, with pebble- to cobble-sized clasts near the slope of the fault while the mega-clasts, such as boulders and blocks, are preserved away from the slope. Such a clast size organization is indicative of a dry rockfall process and is opposite to that of alluvial fan systems dominated by gravity process involving water. This study also revealed that the breccias from the NE of the Pyrenees, encountered on both flanks of the Bas Agly syncline and previously attributed to the Lower Cretaceous, are related to a first phase of extension during the Upper Jurassic.
Dans cette étude, nous nous sommes intéressés aux processus de formation et de préservation des brèches sédimentaires colluviales dans un contexte d'extension. Les brèches étudiées dans ce travail (provenant de Crète et des Pyrénées) sont caractérisées par des dépôts polygéniques mal triés de clastes carbonatés très anguleux dont la taille varie de galets à blocs mesurant plusieurs millimètres à plusieurs mètres. Cette étude montre que les brèches sédimentaires colluviales formées au cours de la tectonique en extension sont spatialement associées à des failles normales majeures et sont organisées avec des clastes de la taille de petits cailloux à galets près de la pente de la faille et des méga-clastes, tels que des gros cailloux et des blocs, loin de la pente, contrairement à ce que l'on trouve dans les systèmes de cônes alluviaux. Cette étude révèle également que les brèches rencontrées sur les deux flancs du synclinal du Bas Agly, qui sont intercalées entre des calcaires du Jurassique supérieur et du Berriasien, sont liées à une phase d'extension précoce durant le Jurassique supérieur.
Fichier principal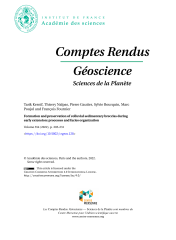 CRGEOS_2022__354_G2_205_0.pdf (12.42 Mo)
Télécharger le fichier
Origin : Files produced by the author(s)