Vacuum ultraviolet of hydrogenated amorphous carbons. II. Small hydrocarbons production in Photon Dominated Regions
Context. Hydrogenated amorphous carbons (a-C:H) are a major component of the carbonaceous solids present in the interstellar medium. The production and existence of these grains is connected in particular with the balance between their photolysis, radiolysis, and hydrogenation. During grain processing, H
2
and other small organic molecules, radicals, and fragments are released into the gas phase.
Aims: We perform photolytic experiments on laboratory produced interstellar a-C:H analogues to monitor and quantify the release of species and compare to relevant observations in the interstellar medium.
Methods: Hydrogenated amorphous carbon analogues at low temperature are exposed to ultraviolet (UV) photons, under ultra-high vacuum conditions. The species produced are monitored using mass spectrometry and post irradiation temperature-programmed desorption. Additional experiments are performed using deuterated analogues and the species produced are unambiguously separated from background contributions. We implement the laboratory measured yields for the released species in a time dependent model to investigate the effect of the UV photon irradiation of hydrogenated amorphous carbons in a photon dominated region, and estimate the associated time scale.
Results: The UV photolysis of hydrogenated amorphous carbons leads to the production of H
2
molecules and small hydrocarbons. The model shows that the photolytic evolution of a-C:Hs in photon dominated regions, such as the Horsehead Nebula, can raise the abundance of carbonaceous molecules by several orders of magnitude at intermediate visual extinctions, i.e., after the C
+
maximum and before the dense cloud conditions prevail where models generally show a minimum abundance for such carbonaceous species. The injection time peak ranges from a thousand to ten thousand years in the models, considering only the destruction of such grains and no re-hydrogenation. This time scale is consistent with the estimated advection front of a photon dominated region, which replenishes it with freshly exposed material. Appendices are available in electronic form at
http://www.aanda.org
Fichier principal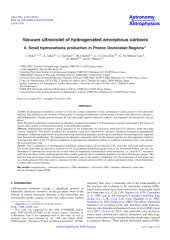 aa26368-15.pdf (1.27 Mo)
Télécharger le fichier
Origin : Publisher files allowed on an open archive