Discovery and identification of infrared counterpart candidates of four Galactic centre low mass X-ray binaries
Context. The near infrared (nIR)/optical counterparts of low mass X-ray binaries (LMXBs) are often observationally dim and reside in high source density fields which make their identification problematic; however, without such a counterpart identification we are unable to investigate many of the properties of LMXB systems.
Aims: Here, in the context of a larger identification campaign, we examine the fields of four LMXB systems near the Galactic centre, in a bid to identify nIR/optical counterparts to the previously detected X-ray point sources.
Methods: We obtain nIR/optical images of the fields with the ESO - New Technology Telescope and apply standard photometric and astrometric calibrations; these data are supplemented by Spitzer-GLIMPSE catalog data.
Results: On the basis of positional coincidence with the arcsecond accurate X-ray positions, we identify unambiguous counterpart candidates for
XTE J1637-498
,
IGR J17379-3747
,
IGR J17585-3057
and
GX 9+1
.
Conclusions: We propose tentative nIR counterparts of four LMXBs which require further investigation to confirm their associations to the X-ray sources. Based on observations collected at the European Organisation for Astronomical Research in the Southern Hemisphere, Chile under ESO programs 081.D-0401 & 084.D-0535 (P.I. Chaty).
Fichier principal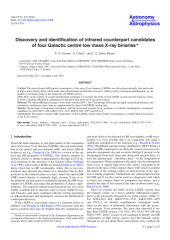 aa17208-11.pdf (225.52 Ko)
Télécharger le fichier
Origin : Publisher files allowed on an open archive