A search for near infrared counterparts of three pulsar wind nebulae
Context. While pulsar wind nebulae (PWNe) and their associated isolated pulsars are commonly detected at X-ray energies, they are much rarer at near infrared (nIR) and optical wavelengths.
Aims: Here we examine three PWN systems in the Galactic plane - IGR J14003-6326, HESS J1632 - 478 and IGR J18490 - 0000 - in a bid to identify optical/nIR emission associated with either the extended PWNe or their previously detected X-ray point sources.
Methods: We obtain optical/nIR images of the three fields with the ESO - New Technology Telescope and apply standard photometric and astrometric calibrations.
Results: We find no evidence of any extended emission associated with the PWNe in any of the fields; neither do we find any new counterparts to the X-ray point sources, except to confirm the magnitude of the previously identified counterpart candidate of IGR J18490 - 0000.
Conclusions: Further observations are required to confirm the association of the nIR source to IGR J18490 - 0000 and to detect counterparts to IGR J14003-6326 and HESS J1632 - 478, while a more accurate X-ray position is required to reduce the probability of a chance superposition in the field of the latter. Based on observations collected at the European Organisation for Astronomical Research in the Southern Hemisphere, Chile under ESO programs 080.D-0864, 081.D-0401, 084.D-0535 (P.I. Chaty).
Fichier principal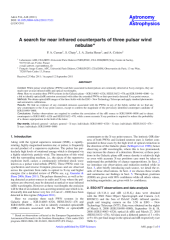 aa17321-11.pdf (425.43 Ko)
Télécharger le fichier
Origin : Publisher files allowed on an open archive