Interpretation of the Chemical and Physical Time-Series Retrieved from Sentik Glacier, Ladakh Himalaya, India
Zusammenfassung Die Spektralanalyse einer 17 ± 0.3 a, mit Gesamt- β -Aktivität kalibrierten Zeitreihe aus dem Sentik-Gletscher (4908m) im Ladakh-Himalaya liefert einige erkennbare Periodizitäten, darunter solche von weniger als einem Jahr Dauer sowie ein-und vieljährige. Die Zeitreihe enthält sowohl chemische (Chlorid, Sodium, aktives Eisen, Silikat und Phosphat, Ammonium, δ D, δ ( 18 O) und pH) wie physikalische Daten (Dichte, Lage von Schutt und Eisbändern sowie Mikropartikel in Grössen von 0.50 bis 12.70 μ m). Um die Bedeutung solcher Studien fur die Aufstellung paläometeorologischer Datensätze aus vergletscherten Gebieten von Hochgebirgen wie dem Himalaya zu zeigen, werden die Herkunftsgebiete der untersuchten chemischen Stoffe und die allegemeine Luftzirkulation, die sich aus chemischen und physikalischen Zeitreihen ableiten lässt, diskutiert.
Abstract Spectral analysis of time series of a c . 17 ± 0.3 year core, calibrated for total ß activity recovered from Sentik Glacier (4908m) Ladakh, Himalaya, yields several recognizable periodicities including subannual, annual, and multi-annual. The time-series, include both chemical data (chloride, sodium, reactive iron, reactive silicate, reactive phosphate, ammonium, δ D, δ ( 18 O) and pH) and physical data (density, debris and ice-band locations, and microparticles in size grades 0.50 to 12.70 μ m). Source areas for chemical species investigated and general air-mass circulation defined from chemical and physical time-series are discussed to demonstrate the potential of such studies in the development of paleometeorological data sets from remote high-alpine glacierized sites such as the Himalaya.
Résumé L'analyse spectrale de l'activité ß totale d'une série temporelle de glace 17 ± 0.3 a issue du Sentik Glacier (4908 m) Ladakh Himalaya, a permis de reconnaître, plusieurs périodicités, subannuelles, annuelles et multi-annuelles. Cette série comprend à la fois des résultats chimiques (chlorures, sodium, fer actif, silicate actif, phosphate actif, ammonium, δ D, δ ( 18 O) pH) et de donnés physiques (densité, localisation des bandes de glace et de sédiments et microparticules dans les plages de dimension de 0,50 à 12,70 μ m). On discute les zones sources pour les espèces chimiques trouvées et la circulation générale des masses d'air impliquée par les séries chimiques et physiques inventoriées, on montre les possibilités de ce type d'étude pour le développement des connaissances paléométéorologiques dans les sites de haute montagne alpine englacée tels que l'Himalaya.
Fichier principal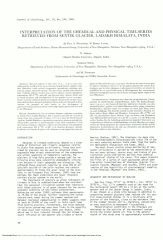 interpretation-of-the-chemical-and-physical-time-series-retrieved-from-sentik-glacier-ladakh-himalaya-india.pdf (9.21 Mo)
Télécharger le fichier
Origin : Publisher files allowed on an open archive