Age and genesis of the rare metals (Sn, Li, Nb-Ta, W) granite cupola of Montebras (Creuse, French Massif Central).
Âge et genèse de la coupole granitique à métaux rares (Sn, Li, Nb-Ta, W) de Montebras (Creuse, Massif central français)
The Montebras cupola is a small massif of granite with rare metals (Sn,W, Li, Nb-Ta) located north of the French Massif Central which emplaced during the upper Carboniferous in an olderhost rock, the Chanon granite (357.2 ± 2.1 Ma). Two magmatic episodes, a microgranite (316.1 ± 4.3 Ma),and an albitic leucogranite (309.8 ± 3.9 Ma) are distinguished. The second develops contact formations at itsroof, in particular a thick stockscheider pegmatite (309.7 ± 4.5 Ma), passing east to lithium greisens and tinbearingflat quartz veins, previously exploited (303.8 ± 4.8 Ma). The cassiterite deposition (associated withmanganocolumbite) spreads from the magmatic phase with crystals disseminated in leucogranite, until theend of the pneumatolytic phase marked by cassiterite-bearing quartz veins. This spreading is marked by aprogressive drop in the concentrations of trace elements (Nb, Ta, Fe, Mn, Mg, Ti) in cassiterite but withoutreaching the domain of typically hydrothermal compositions. During the pneumatolytic phase, cassiterite isaccompanied by rare scheelite, the rare qitianlingite and a frequent wolframite, the composition of which(hubnerite) indicates a magmatic origin for the metal and the fluids involved during the deposition oftungsten. The deposition of sulfides rich in Cu, As and Sn (löllingite, chalcopyrite, tennantite, stannoidite,mawsonite...) marks the transition to the hydrothermal stage and suggests an origin in host rocks for copperand arsenic. The liasic fluorite-baryte event is manifested by the local appearance of veinlets with violetfluorite, baryte and manganapatite. The Montebras dome provides a representative example of the rare metalgranites of the Variscan orogen. It is contemporary with the other rare elements granitic magmas of thenorthern French Massif Central with which it presents similarities but also differences. Its emplacementcould result from a mechanism of the cauldron subsidence type.
-La coupole de Montebras est un petit massif de granite à métaux rares (Sn, W, Li, Nb-Ta) situé au nord du Massif Central Français qui se met en place au Carbonifère supérieur dans un encaissant plus ancien, le granite de Chanon (357,2 ± 2,1 Ma). Deux épisodes magmatiques, un microgranite (316,1 ± 4,3 Ma) et un leucogranite albitique (309,8 ± 3,9 Ma), sont distingués. Le second développe à son toit des formations de contact, notamment une puissante pegmatite stockscheider (309,7 ± 4,5 Ma), passant vers l'est à des greisens à lithium et des filons plats de quartz stannifères anciennement exploités (303,8 ± 4,8 Ma). Le dépôt de cassitérite (associée à la manganocolumbite) s'étale depuis la phase magmatique avec des cristaux disséminés dans le leucogranite, jusqu'à la fin de la phase pneumatolytique marquée par des filons de quartz stannifères. Cet étalement se traduit par une baisse progressive des concentrations en éléments-traces (Nb, Ta, Fe, Mn, Mg, Ti) dans la cassitérite mais sans que soit atteint le domaine des compositions typiquement hydrothermales. Lors de la phase pneumatolytique, la cassitérite est accompagnée de rare scheelite, de la rarissime qitianlingite et d'une wolframite fréquente dont la composition (hübnérite) indique une origine magmatique pour le métal et les fluides impliqués dans le dépôt du tungstène. La paragenèse à sulfures riches en Cu, As et Sn (löllingite, chalcopyrite, tennantite, stannoïdite, mawsonite...) marque le passage à la phase hydrothermale et suggère une origine dans les roches encaissantes pour le cuivre et l'arsenic. L'événement fluo-barytique liasique se manifeste par l'apparition locale de fissures à fluorine violette, barytine et manganapatite. La coupole de Montebras fournit un exemple représentatif des granites à métaux rares de la chaîne varisque. Elle est contemporaine des autres magmas granitiques à éléments rares du nord Massif central avec lesquels elle présente des points de similitude mais aussi des différences. Sa mise en place pourrait relever d'un mécanisme de type cauldron subsidence.
Fichier principal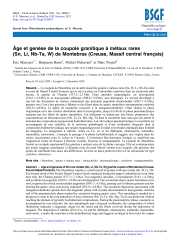 2021_BSGF_Montebras_EM-min.pdf (2.47 Mo)
Télécharger le fichier
Origin : Files produced by the author(s)