N2-H2 capacitively coupled radio-frequency discharges at low pressure. Part I. Experimental results: effect of the H2 amount on electrons, positive ions and ammonia formation.
Décharges plasma radiofréquences capacitivement couplées dans N2-H2 à basse pression. Partie I. Résultats expérimentaux : effet de la quantité de H2 sur les électrons, les ions positifs et la formation d'ammoniac.
The mixing of N2 with H2 leads to very different plasmas from pure N2 and H2 plasma discharges. Numerous issues are therefore raised involving the processes leading to ammonia (NH3) formation. The aim of this work is to better characterize capacitively-coupled radiofrequency plasma discharges in N2 with few percents of H2 (up to 5%), at low pressure (0.3 to 1 mbar) and low coupled power (3 to 13 W). Both experimental measurements and numerical simulations are performed. For clarity, we separated the results in two complementary parts. The actual one (first part), presents the details on the experimental measurements, while the second focuses on the simulation, a hybrid model combining a 2D fluid module and a 0D kinetic module. Electron density is measured by a resonant cavity method. It varies from 0.4 to 5.109 cm-3, corresponding to ionization degrees from 2.10-8 to 4.10-7. Ammonia density is quantified by combining IR absorption and mass spectrometry. It increases linearly with the amount of H2 (up to 3.1013 cm-3 at 5% H2). On the contrary, it is constant with pressure, which suggests the dominance of surface processes on the formation of ammonia. Positive ions are measured by mass spectrometry. Nitrogen-bearing ions are hydrogenated by the injection of H2, N2H+ being the major ion as soon as the amount of H2 is > 1%. The increase of pressure leads to an increase of secondary ions formed by ion/radical – neutral collisions (ex: N2H+, NH4+, H3+), while an increase of the coupled power favors ions formed by direct ionization (ex: N2+, NH3+, H2+).
Le mélange de N2 avec H2 conduit à des plasmas très différents des décharges dans N2 seul ou H2 seul. Ainsi, de nombreuses problématiques en découlent, dont notamment les processus de formation de l'ammoniac (NH3). L'objectif de ce travail est de mieux caractériser les décharges plasma radiofréquences couplées capacitivement dans un mélange gazeux de N2 avec quelques pourcents de H2 (jusqu'à 5%), à basse pression (0.3 à 1 mbar) et à faible puissance couplée (3 à 13 W). Nous avons combiné des mesures expérimentales et des simulations numériques. Par soucis de clarté, nous avons séparé les résultats en deux parties complémentaires. Cet article (le premier des deux) présente les détails des mesures expérimentales, et le second est centré sur la description de la simulation numérique, un modèle hybride combinant un module fluide 2D et un module cinétique 0D. La densité électronique est mesurée par une méthode de cavité résonante. Elle varie entre 0,4 et 5.109 cm-3, correspondant à des degrés d'ionisation de 2.10-8 à 4.10-7. La densité d'ammoniac est quantifiée par la combinaison des résultats de spectrométrie d'absorption infrarouge et de spectrométrie de masse. Elle croît linéairement avec la quantité de H2 (jusqu'à 3.1013 cm-3 à 5% H2). A l'inverse, elle est constante avec la pression, ce qui suggère la prédominance des processus de surface dans la formation d'ammoniac. Les ions positifs sont mesurés par spectrométrie de masse. Les ions contenant de l'azote sont hydrogénés avec l'ajout de H2, N2H+ devenant l'ion majoritaire dès que la quantité de H2 est > 1%. Une augmentation de la pression conduit à une augmentation des ions secondaires formés par les collisions entre les ions/radicaux et les neutres (ex: N2H+, NH4+, H3+). A l'inverse, une augmentation de la puissance couplée favorise les ions formés par ionisation directe (ex: N2+, NH3+, H2+).
Fichier principal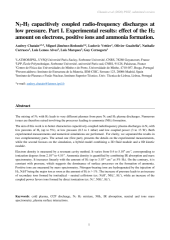 20-02-10-N2-H2_exp_HAL.pdf (2.08 Mo)
Télécharger le fichier
Origin : Files produced by the author(s)
Licence : Copyright
Comment : Submitted version (10 February 2020)