Cohérence spatiale des mouvements sismiques et structure géométrique du proche sous-sol: un exemple à Argostoli, Grèce
The spatial variation of the earthquake ground motion over short distances can significantly affect the dynamic response of large and extended engineered structures, particularly when they are located at sites with lateral heterogeneity. In current practices, it is taken into account in terms of coherency, as a function of frequency and distance, established on an essentially empirical basis, making it difficult to extrapolate at different sites. So, in order to improve our understanding of the physical significance of coherency and its relationship to the geometrical and mechanical characteristics of the ground structure, a very dense network was installed in seismically active region of Argostoli-Koutavos (Cephalonia, Greece). Consisting of 21 velocimeters deployed on four concentric circles of radii 5, 15, 40 and 80 m around a central station in a small valley (~50m thickness, width 1.5 km), the array recorded several hundred events in the period from September 2011 to April 2012. A subset of 46 events having a homogeneous distribution in terms of epicentral distance (0-200 km), back-azimuth (0-360 °) and magnitude (2 to 5) has been selected for a systematic analysis of the coherencyof all station pairs observed on 'the most energetic phase' containing the S-wave. The results indicate a lack of a clear dependence of the average coherency on the magnitude, back-azimuth or site-to-source distance of the event, and on the length of chosen signal window provided that it contains the same S-phase energy. The most striking result concerns the influence of the site geometry;the coherency is systematically higher for the pairs aligned parallel to the axis of the valley (2D), and lower for those aligned in the perpendicular direction. This result is consistent with the formation of the wavefield in the valley, dominated by surface waves propagating from one edge to the other. The observed coherency estimates are,however,weaklyrepresented by the existing parametric models. MOTS-CLÉS :variabilitéspatiale, réseau dense, cohérence, champ d'ondes.
La variabilité spatiale des mouvementssismiques sur de courtes distances peut affecter significativement la réponsedynamique des structures de génie civil de grandetaille, enparticulierquandellessontfondées sur des sites latéralementhétérogènes. Elle est souvent prise en compteau travers de fonctionsempiriques – peucalibrées et peuextrapolables d'un site à l'autre-décrivant la perte de cohérenceenfonction de la fréquence et la distance. Dans le but d'améliorer la compréhension de la structure de la cohérence et son lien avec les caractéristiques géométriques et mécaniques du sous-sol, un réseau sismologiqu etrès dense a étéi nstallé dans la région sismiquement très active d'Argostoli-Koutavos (Céphalonie, Grèce). Constitué de 21 vélocimètresdéployés sur 4 cerclesconcentriques de rayons 5, 15, 40 et 80 m autourd'une station centrale au sein d'unevallée de petite taille (épaisseur ~50m, largeur 1.5 km), ceréseau a enregistréplusieurscentainesd'événements sur la période septembre 2011-avril 2012. Un sous ensemble de 46 événementsprésentant une distribution homogène en termes de distance épicentrale (0-200 km), back-azimut (0-360°) et magnitude (2 à 5) a été sélectionné pour une analyse systématique de la cohérence observée sur la phase forte comprenant l'onde S de toutes les paires de stations. Les résultats indiquent une absence de dépendance claire de la cohérence moyenne en fonction de la magnitude, du back-azimut de la source, et de la distance hypocentrale, ainsi qu'une grande robustesse vis-à-vis de la fenêtre de signal choisie, pour peu qu'ellecontienne la phase S énergétique. Le résultat le plus marquant concerne le contrôlepar la géométrie du site : la cohérence est systématiquement plus forte pour les paires alignées parallèlement à l'axe de la vallée (2D), et minimale pour celles alignées selon la direction perpendiculaire. Ce résultat est cohérent avec la constitution du champ d'ondes dans la valléedominé par des ondes de surface se propageant d'un bord à l'autre de la vallée. Les cohérencesobservées ne sont par ailleurs que trèspartiellementexpliquées par les modèlesexistants.
Fichier principal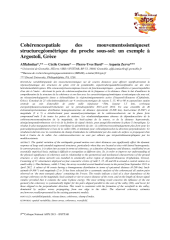 4_Imtiaz.pdf (1.4 Mo)
Télécharger le fichier
Origin : Files produced by the author(s)