Close to the lair of Odysseus Cyclops: the SINAPS@ post- seismic campaign and accelerometric network installation on Kefalonia island
A deux pas du repaire du Cyclope d'Ulysse: la campagne post-sismique et le démarrage du réseau accélérométrique SINAPS@ sur l'île de Céphalonie.
The Koutavos-Argostoli (Kefalonia, Greece) site was selected within the ANR-PIA SINAPS@ project (www.institut-seism.fr/projets/sinaps/) to host a vertical accelerometricarray. The long term goal is to validate 3D nonlinear numerical simulation codes. This article shortly presents the site and its geodynamic, geological and seismic backgrounds, the borehole instrumentation and the associated geotechnical information, and the first results of the post-seismic campaign organized following the seismic sequence of January-February 2014 including two M6 + shocks and numerous aftershocks.
Le site d'Argostoli-Koutavos (Céphalonie, Grèce) a été sélectionné dans le cadre du projet ANR-PIA SINAPS@ (www.institut-seism.fr/projets/sinaps/) pour faire l'objet d'une instrumentation longue durée en réseau accélérométrique vertical. Le but à long terme est de valider les codes de simulation numérique 3D non-linéaires. Cet article présente brièvement le site et son contexte géodynamique, géologique et sismique, l'instrumentation en forage et les informations géotechniques associées, ainsi que les premiers résultats de la campagne post-sismiqueorganisée à la suite de la séquence sismique de janvier-février 2014, comprenant deux chocs de magnitude M6+ et de très nombreuses répliques.
Fichier principal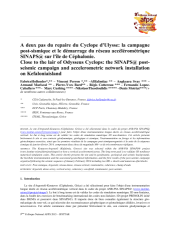 2_Hollender.pdf (1.45 Mo)
Télécharger le fichier
Origin : Files produced by the author(s)