Prise en compte de la coïncidence de fréquences sol-structure dans les évaluations de vulnérabilité et de risque sismiques se basant sur l'approche neuronale.
It has been observed repeatedly in the post-seismic investigations that structures having frequencies similar to that of soil foundation exhibited significantly greater damage (Caracas 1967, Mexico 1985, Pujili 1996, L'Aquila 2009). However this observation is generally not taken directly into account neither in present-day seismic regulations (small scale), nor in large-scale seismic risk analysis. We considered a theoretical analysis to study the effect of coincidence between soil and building frequencies. As a first step, 887 realistic soil profiles having a linear behavior are associated with a set of elastoplastic oscillators of 1 degree of freedom. The results obtained to date are used to quantify the damage increment related to the coincidence of frequencies depending on other parameters such as the peak ground acceleration (PGA), the ground (impedance contrast) and the structure (ductility) based on neural network approach that does not require any a priori knowledge.
Il a été observé maintes fois dans les investigations post-sisimiques, que les bâtiments présentant des fréquences de résonance similaires à celles du sol de fondation étaient soumis à des dommages sensiblement plus importants (Caracas 1967, Mexico 1985, Pujili 1996, L'Aquila 2009). Cette observation n'est généralement que très peu, ou de façon très indirecte, prise en compte d'une part dans les règlements parasismiques actuels (échelle du bâtiment), et d'autre part dans les études de risque et vulnérabilité sismiques (échelle urbaine). Nous avons réalisé une analyse théorique pour étudier l'effet de la coïncidence entre les fréquences du sol et du bâtiment. Dans un premier temps, 887 profils de sols réels ayant un comportement linéaire sont associés à un ensemble d'oscillateurs élastoplastiques à 1 degré de liberté. Les résultats obtenus à ce jour permettent de quantifier l'incrément de dommages entre sol et rocher en fonction de la coïncidence de fréquence. Cette analyse a été faite en tenant compte d'autres paramètres liés à l'excitation (PGA), au sol (contraste d'impédance) ou à la structure (ductilité notamment) en se basant sur l'approche neuronale qui ne nécessite aucune connaissance a priori.
Fichier principal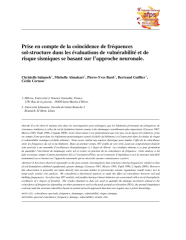 2_Salameh.pdf (642.34 Ko)
Télécharger le fichier
Origin : Files produced by the author(s)