Chronologie et mutations fonctionnelles dans la poterie-tuilerie médiévale de la Goulande (La Haute-Chapelle, Orne). Avec une nouvelle datation du site de Saint-Georges-de-Rouelley (Manche)
The workshop of la Goulande (La Haute-Chapelle, Orne) is located close to a large complex of pits used to extract clay to make earthenware pottery, stoneware's and tiles. Geophysical surveys have identified two magnetic anomalies corresponding to three kilns referenced A, B, and C. The first (A) is a longitudinal pottery kiln, dated by archaeomagnetic analysis to the second half of the 13th century or to the beginning of the 14th century. Its morphology and productions are similar to those of the neighbouring workshop of Saint-Georges-de-Rouelley, for which the re-examination of the archaeomagnetic data collected during the 1980s provides us with a date earlier by half a century (1260-1280 instead of 1325-1350). The two potters workshops (Saint-Georges-de-Rouelley and kiln A at la Goulande) are therefore contemporary. Around 1,50 m to the east, the remains of two other kilns were found. The first (B), a tile kiln, was replaced by a longitudinal pottery kiln (C). In correspondence with the archaeological data, archaeomagnetic results obtained provide different dates for each of the kilns studied. Finally, the production of stoneware most probably substituted the production of tiles up until the last third of the 15th century.
L'atelier de la Goulande (La Haute-Chapelle, Orne) se trouve au sein d'un vaste ensemble de fosses d'extraction d'argiles utilisées pour fabriquer de la poterie commune, des grès et des tuiles. Les prospections géophysiques menées à cet endroit ont permis de distinguer deux anomalies magnétiques, correspondant à trois fours référencés A, B et C. Le premier (A) est un four à pots longitudinal, daté par une analyse archéomagnétique de la seconde moitié du xiiie siècle ou du début du xive siècle. Sa morphologie et les productions qu'on peut lui associer sont proches de celles de l'atelier voisin de Saint-Georges-de-Rouelley, dont le réexamen des données archéomagnétiques recueillies au milieu des années 1980 conduit à une datation plus haute d'un demi-siècle (1260-1280 au lieu de 1325-1350). Les deux ateliers de potiers (Saint-Georges-de-Rouelley et four A de la Goulande) seraient donc sensiblement contemporains. À environ 1,50 m plus à l'est, se trouvent les restes des deux autres fours. Le premier (B) est un four à tuiles, auquel s'est substitué un four à pots longitudinal (C). En accord avec les données archéologiques, les résultats archéomagnétiques obtenus donnent des datations différentes pour chacun des fours étudiés. La production de tuiles qui s'y est développée a probablement pris fin au début du xve siècle. Finalement, une production de grès s'est substituée à la production de tuiles, vraisemblablement jusqu'au dernier tiers du xve siècle.
Fichier principal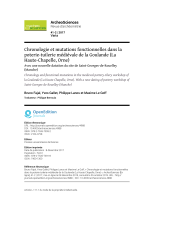 archeosciences-4988.pdf (2.71 Mo)
Télécharger le fichier
Origin : Publisher files allowed on an open archive