Evolution tectonique et metamorphique de la chaîne varisque en Bretagne méridionale
On the basis of geometrical and structural analysis, associated with quantitative petrological analysis of metamor- phic rocks from South Brittany, a tectono-metamorphic evolution is proposed for the western part of the European Variscan belt during Paleozoic times. A complex two-stages evolution has been identified. Devonian events (eo-Variscan) were attributed to tangential thrusting movements under different geometrical/kinematical and metamorphic conditiqns (HP-HT), associated to vertical movements (diapirism of anatectic granites) in HT areas. A continental collision process (nappes stacking) may be infered from P-T-t-d paths calculations. Following the opening of a pull-apart basin, Carboniferous events (Variscan) were directly related to dextral wrenching along the South-Armorican shear zone. The HP-HT metamorphic areas underwent the same Carboniferous tectonic history. The complex tectono-metamorphic history of South Brittany cannot be easily integrated in models of the Variscan belt.
L'analyse structurale géométrique et cinématique associée à l'analyse pétrologique quantitative des roches métamorphiques de Bretagne méridionale permettent de reconstituer l'évolution tectono-métamorphique du segment le plus occidental de la chaîne Varisque de l'Europe de l'Ouest au cours du Paléozoïque. On distingue: - des événements d'âge dévonien (éo-varisques) essentiellement caractérisés par des mouvements tangentiels de direction et conditions métamorphiques différentes (HP et HT) localement associés à des mouvements verticaux mis en relation avec le diapirisme de granités d'anatexie. Le contexte géodynamique était celui d'une collision continentale produisant des empilements de nappes. - succédant à l'ouverture d'un bassin de type «pull-apart» des événements d'âge carbonifère (varisque) ont été directement reliés au fonctionnement dextre du cisaillement Sud-armoricain. Ces événements ont affecté de manière identique les ensembles métamorphiques de HP et de HT d'âge dévonien. La complexité de la Bretagne méridionale rend difficile son intégration dans les modèles actuels de la chaîne varisque.
Fichier principal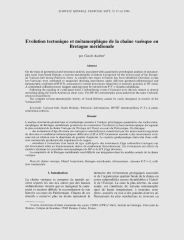 MA0031-Audren.pdf (4.37 Mo)
Télécharger le fichier
Origin : Publisher files allowed on an open archive