Un exemple subactuel d'échanges sédimentaires continent-océan en région tempérée, l'estuaire de la Loire (France). Textures et structures sédimentaires
Subactual sedimentary continent-ocean interactions in temperate area, the Loire estuary (France) Sediments textures and structures Abstract. — Along fluvial transit, with active sorting, an extraction of colloidal particles takes place. Fine detritic materials inherited by estuary have their optimum (for physical properties : fabric, shear strength, water contents and so on) in areas of maximum turbidity and fluid mud standing zones. These areas control : prestructuration, eoconsolidizing processes and colloids coagulation. Estuary and shore take effect as filtering systems. Presently the strong déstructuration of sediments in coastal environments and the back driving cycle of marine materials from shelf to shore, permits only a part of colloids and clay minerals escape in the open ocean. These — definitively — settled particles, give reaggregated structures on oceanic floor, but at a lower organization level than in estuarine environment. Sedimentary processes, in estuarine geosystem, located at the interface between the continent and the ocean, operate either by jumps (on thresholds), by continuous changes (in evolutaring sections) and by feedback from the shelf (in the outer part). The regional pattern (geomorphology, geology, hydrology, etc.) governs these processes. So, paleoestuarine recognition needs, together, fine and large scale studies. These peculiarities can explain the lack of informations in this field.
Un exemple subactuel d'échanges sédimehtaites contmentiocéan en région tempérée, l'estuaire de la Loire (France). Textures et structures sédimentaires par L u c ie n BARBAROUX H Résumé. — Accompagné d'un tri actif, le transit fluvial entraîne un départ de colloïdes en solution. Les matériaux détritiques subissent leur évolution essentielle en estuaire, au cours de leur blocage dans le bouchon vaseux et la crème de vase, où la préstructuration et l'éoconsolidaiion sont optimales et accompagnées d'une coagulation des colloïdes. L'estuaire et le milieu littoral peuvent être considérés comme des filtres. En effet, en raison de la forte déstructuration du sédiment en milieu littorabet du refoulement vers l'estuaire de maté­ riaux d'origine marine, il ne s'échappe actuellement vers le large qu'une partie des sédiments, surtout colloïdaux. Ces derniers forment alors des structures réagrégées, mais à un niveau d'organisation inférieur par rapport aux sédiments estuariens. Le contrôle de la sédi­ mentation dans le géo-système se fait par sauts (seuils) et secteurs évolutifs, sous la dépendance des facteurs d'environnement régionaux (géomorphologie, débit fluvial, marée, etc.).
Fichier principal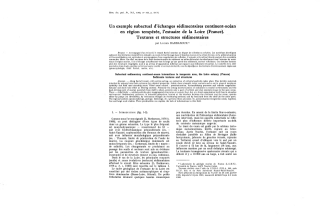 MA0068-Barbaroux.pdf (5.84 Mo)
Télécharger le fichier
Origin : Publisher files allowed on an open archive