An earwig in Late Cretaceous Vendean amber (Dermaptera)
A new fossil earwig nymph is described and figured from the Late Cretaceous (Cenomanian to Santonian) amber of Vendée,northwestern France. Vendeenympha gravesi n. gen. and sp., is distinguished from previously recorded nymphs in other Frenchfossil deposits and compared to modern lineages. This is the third record of earwig nymphs in French Cretaceous ambers.
Une nouvelle nymphe fossile de perce-oreilles est décrite et illustrée de l'ambre crétacé supérieur (Cénomanien à Santonien)de Vendée, dans le nord-ouest de la France. Vendeenympha gravesi n. gen. et sp., est comparée aux nymphes précédemmentdécrites d'autres gisements fossiles français et est également comparée aux lignées modernes. Il s'agit de la troisième occurrencede nymphes de perce-oreilles dans les ambres crétacés de France.
Fichier principal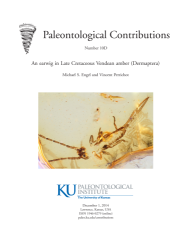 PL03379.pdf (1.46 Mo)
Télécharger le fichier
Origin : Publisher files allowed on an open archive