Youngest occurrence of the genus Microphorites (Diptera: Dolichopodidae): A new species in Late Cretaceous Vendean amber
A new species of the extinct genus Microphorites Hennig (Dolichopodidae: Microphorinae) is described from a single malepreserved in Late Cretaceous (Cenomanian to Santonian) Vendean amber (NW France). Microphorites magaliae n. sp., ismostly characterized by large compound eyes, flagellomere I with base bulbous and abruptly tapering to slender apex, thoraxstrongly hump-backed, with numerous acrostichal and dorsocentral setae, including a pair of elongate posterior setae on themesoscutum, mesoscutellum with two long strong setae, wing vein C terminating just beyond R4+5, and R4+5 approximatelyequidistant between R2+3 and M1 along wing margin. It is the latest occurrence of the genus which is otherwise known exclusivelyfrom Early to mid-Cretaceous amber of Lebanon, Spain, and southwestern France. The existing key to all speciesof Microphorites is modified to include the new species.
Une nouvelle espèce du genre fossile Microphorites Hennig (Dolichopodidae: Microphorinae) est décrite à partir d'unmâle fossilisé dans l'ambre crétacé supérieur (Cénomanien à Santonien) de Vendée (nord-ouest de la France). Microphoritesmagaliae n. sp., est caractérisé par de grands yeux composés, le flagellomère I bulbeux à sa base et se rétrécissant brusquementvers l'apex, le thorax fortement bosselé, avec de nombreuses soies acrostichales et dorsocentrales, y compris une paire de soiespostérieures allongées sur le mésoscutum, le mésoscutellum avec deux soies épaisses et longues, l'aile avec la nervure C seterminant juste au-delà de R4+5, et R4+5 approximativement équidistante de R2+3 et M1 le long de la marge de l'aile. Il s'agitde la plus récente occurrence du genre connu autrement des ambres du Crétacé inférieur et moyen du Liban, d'Espagne, etdu sud-ouest de la France. La clé des espèces de Microphorites est modifiée pour inclure la nouvelle espèce.
Fichier principal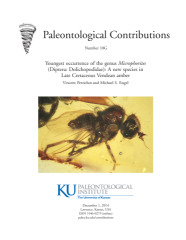 PL03378.pdf (1.34 Mo)
Télécharger le fichier
Origin : Publisher files allowed on an open archive